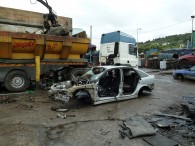 A vehicle salvage firm in Stalybridge has been fined over multiple safety failings after a car weighing more than half a tonne fell from a forklift truck, crushing a young mechanic underneath.
The 22-year-old from Ashton-under-Lyne, who has asked not to be named, suffered severe injuries including broken bones in his back and ribs, a fractured pelvis and a partially collapsed lung in the incident on 25 September 2012.
North End Salvage Services Ltd was prosecuted by the Health and Safety Executive (HSE) after an investigation found the forklift truck was not safe to use, and the employee had been allowed to climb under the car while it was being lifted to drain the fuel tank.
Trafford Magistrates' Court heard the company had a purpose-built frame to use for emptying fuel tanks before vehicles were crushed, but it had not been used on this occasion.
The employee was reaching under the chassis when the chains on the forklift gave way and the car fell on him. He had to wear a spinal brace for three months and still struggles with lifting, bending and carrying.
The HSE investigation found the company had failed to carry out an annual service on the forklift truck and it had numerous faults. These included the lifting chains being in a dangerous condition due to rust, stiff links and missing parts.
There was also a low level of hydraulic oil in the tank, the handbrake and horn did not work, one of the tyres was badly damaged, and there was no seatbelt.
North End Salvage Services Ltd. pleaded guilty to single breaches of the Health and Safety at Work etc. Act 1974, Provision and Use of Work Equipment Regulations 1998 and the Lifting Operations and Lifting Equipment Regulations 1998. The company, of Manchester Road in Manchester, was fined a total of £5,000 and ordered to pay £6,000 in prosecution costs.