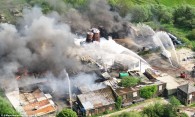 A Littleborough factory has been sentenced for safety failings following a major fire which left an employee with severe burns.
Multiroof Building Products Ltd. was prosecuted by the Health and Safety Executive (HSE) following the blaze on 28 May 2012, which destroyed the entire factory and several neighbouring businesses.
A 25-year-old employee from Rochdale sustained burns to his neck and hands, was in hospital for several weeks and has been unable to return to work.
Trafford Magistrates' Court heard the factory, at Stansfield Mill in Calderbrook, mixed flammable solvents with hot bitumen to produce roof treatment coatings.
On the day of the incident, workers were using a hose to feed around one tonne of solvents from a plastic container, known as a composite IBC, into an adjacent storage tank containing around 20 tonnes of hot bitumen.
Without warning, there was a sudden whoosh and flames erupted from the top of the plastic container. The fire quickly spread and within minutes the whole factory was alight. A total of 21 fire engines were required to tackle the blaze.
The HSE investigation found that Multiroof had allowed flammable vapours, created by the mixing process, to be released in the work area where there were potential ignition sources.
Other containers of flammable substances were stored close to the hot bitumen tank, increasing the risk that a fire would quickly spread.
Multiroof Building Products Ltd., which is no longer operating at the site, was fined £5,000 and ordered to pay £6,000 in prosecution costs after pleading guilty to two breaches of the Health and Safety at Work etc. Act 1974.