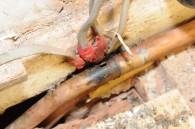 A gas fitter has received a suspended prison sentence and curfew, and been ordered to carry out 300 hours of unpaid community work, after a pensioner suffered severe burns in a gas explosion at his home in Manchester.
Peter Smith, 66, was in a coma for three months following the blast, which happened when he turned on the gas hob on his cooker to make his lunch on 27 September 2011. The spark from the cooker ignited gas that had built up in his house on Brynorme Road in Crumpsall after leaking from a hole in a pipe.
On 29 November, gas fitter Christopher Laffin, 22, was prosecuted by the Health and Safety Executive (HSE) after an investigation found he had damaged live electrical wires while installing a new boiler at the terraced property earlier in the month. This caused a hole to burn through the gas pipe.
Manchester Crown Court heard Mr Laffin – an employee at AWL Plumbing and Heating Ltd. – had burnt the cables while using a blow torch to solder together gas pipes that ran alongside them. He wrapped plastic tape around the cables instead of repairing them, despite them being badly charred.
The investigation found electrical arcing from one of the damaged cables had burnt through the tape and gradually burnt an oval hole in one of the gas pipes, just under a centimetre in diameter.
This was wide enough to allow gas to build up in Mr Smith's home, but he did not notice it because he lacks a sense of smell.
Mr Smith was thrown to the floor in the explosion, and suffered burns to 58 per cent of his body. He was put in an induced coma in hospital to stabilise his condition, and didn't regain consciousness until two days before Christmas.
His house was severely damaged, with walls and windows blown out and the conservatory completely destroyed. The court was told Mr Smith was lucky to survive.
Christopher Laffin, of Reston in Staveley, Cumbria, received a six month prison sentence, suspended for two years, which means he will be sent to prison if he commits another offence in the next two years.
He will also be subject to a curfew, requiring him to stay at home between 6pm and 6am on Fridays, Saturdays and Sundays for the next six months, and was ordered to carry out 300 hours of unpaid work in the community.
Mr Laffin was ordered to pay £1,000 in prosecution costs after pleading guilty to a breach of the Health and Safety at Work etc. Act 1974.