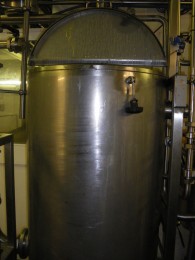 A Chester-based dairy firm has been fined £54,000 after two employees were badly scalded when hot water escaped from the top of a 600 litre tank.
One worker suffered burns all over her body and spent a week in the specialist burns unit at Whiston Hospital following the incident at Meadow Foods Ltd. in Marlston-cum-lache on 26 October 2011. The other employee sustained burns to his left arm, head and lower back, and also needed hospital treatment.
The firm, which processes milk, cream and butter, was prosecuted by the Health and Safety Executive (HSE) after an investigation found its system for cleaning the tank fell below the minimum legal standards.
Chester Magistrates' Court heard the cleaning procedure required a complicated series of valve changes on the tank but there were no written instructions or diagrams on how to do this.
The workers, who do not wish to be named, were in the process of cleaning it when the 22-year-old male employee from Chester opened one of the valves. This meant compressed air that had built up inside the pipes was released in the tank itself, forcing the hot water out.
The water, which was over 70 degrees Celsius, rained down on the workers and badly scalded both of them. His female colleague, 35, from Wrexham, was off work for several weeks due to the extent of her injuries.
The court was told the company had carried out a risk assessment for the cleaning process a few months earlier but it had failed to identify basic risks such as burns from hot water or the build-up of pressure.
Meadow Foods Ltd, which employs 100 people at its site on Rough Hill in Marlston-cum-lache, was fined £54,000 and ordered to pay costs of £18,553 after pleading guilty to single breaches of the Health and Safety at Work etc. Act 1974 and the Provision and Use of Work Equipment Regulations 1998 on 6 March 2014.