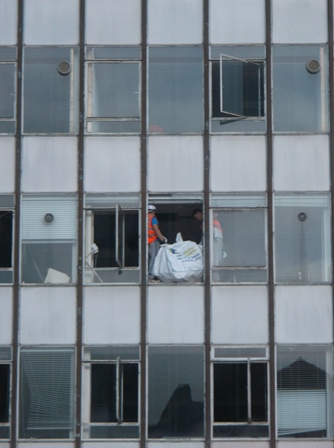 J A Ball Ltd. of Coalville was fined £13,000 with £1,182 costs after admitting breaching Regulation 4(1) of the Work at Height Regulations 2005.
Workers were spotted throwing sacks of rubble from a building project opposite a police station, police officers called the Health and Safety Executive (HSE) as debris was seen being thrown out of a fifth floor window to a flat roof several metres below. HSE inspectors arrived at the site on 2 October 2014 and witnessed the activity first hand and, after investigating, prosecuted the firm.
Leicester Magistrates' Court was told company director Adam Ball decided soft stripping work should begin and walked the site with a worker who was not a site manager while issuing instructions.
The court heard Ball had not ensured a refurbishment and demolition asbestos survey had been carried out on the site before work commenced. No paperwork was given to the worker regarding the methods to be used to carry out this work.
No risk assessments or site paperwork was given to Ball's employee and no site file existed. There was a substantial amount of waste generated and placed into the rubble bags. These were initially taken down the stairs to the flat roof and then dragged across the flat roof and thrown over the edge into the skip at ground level.
The flat roof had a number of unprotected fragile roof lights across it and there was no edge protection on the flat roof. Mr Ball's employees then decided it would quicker to simply throw the rubble bags out of the window while they were working on the fifth floor. So while standing on the window sill of an open window bags were thrown to the flat roof before being dragged to skip.